Diet Bang

Currently available from Brambus Records:
---
ZWAR
Tracks:

Zwar
Lüster
Sogra (Sünden I)
Allerdings
Zugzwang
Kann Ich?

Also
Wo Hingegen
Dunkelziffer
Folglich (Sünden II)
Indes
Belphegor

---
Seit dem letzten Album "Profan" sind ein paar Jahre vergangen, aber Andy Bruggers Formation ist nicht untätig gewesen! Mit verkürztem Namen DIET BANG (füher NO NO DIET BANG) und mit neuem, hervorragendem Line-Up meldet sich die Band explosiv und dynamisch wie eh und je zurück und hat nun mit Jochen Baldes (Saxophon) einen weiteren Brambus-Künstler in der Besetzung, welche durch Andre Buser (Bass) und Daniel Stössel (Keyboards) nebst Schlagzeuger Andy Brugger koplettiert wird. Die Kreativität der DIET BANG ist einzigartig und sticht aus jeder der nicht weniger als 15 neuen Nummern hervor! Mit einer Spieldauer von über einer Stunde wird hier zeitgenössischer und höchst dynamischer Jazz mit viel Power und Energie geboten, der eimal mehr die Schweizer Szene als grossartigen Fundus exzellenter Musik offenbart. Mit der nunmehr bereits vierten Produktion für Brambus hat sich die DIET BANG als gewichtiger Jazzfaktor in unserem Programm etabliert und wird ab Herbst 2002 auch wieder vermehrt in den Jazzclubs zu hören sein.
---
Time did not matter this time and Andy Brugger's group did let a couple of years pass by, before coming back with the shorter name DIET BANG (former NO NO DIET BANG) and a new, excellent line-up, including Jochen Baldes (sax), who has released his soloalbum "Niniland" on brambus a few years back as well. Besides him and drumer Andy Brugger, the band is completed by Andre Buser (bass) and Daniel Stoessel (keyboards) and is powerfull, dynamic and explosive as it has been since the first album in 1991 wich is still a reference album for many hifi-shops to demonstrate powerfull music on their sound systems! The creativity of the DIET BANG is unique and can be found on all the 15 new compositions, wich bring the length of the album far over one hour. Excellent, contemporary and high dynamic jazz with a lot of power brings the DIET BANG back in the leading position of the swiss jazz scene and with their now fourth production for brambus they establish themselves even stronger! And they are back touring in autumn 2002 with the new album!
---
Profan
Tracks:

Frank Funk
7968
Trombone Solo
Profan
Back to Small Town

Bozo
Check This Tune And Smash Your Car
Heidi - Streng Bis Bizarr
Change
Sax Solo

---
Leichenschmaus
Tracks:

Square Times on Times Square
Leichenschmaus (ouverdure)
Leichenschmaus
Drecdkstuck (Um A)
Slow Down
Spluingg Splatsch

Igor
Angry Victoria
Beischlafdiebstahl (Zur Poesie Des Lakens)
Vorspiel Oder: Lass Uns Streicheln Aber Wo
Viktor Der Freibeuter

---
Razzia
Tracks:

Dar Weltmeister
Das Land-Ei
Norma Jean
Razzia 1
Hang The Looser
Razzia II
Temesvar

Razzia III
Der Kommissar
Bang Jam
Breakdown In A Public Loo
Razzia IV
Catch The Cat
Razzia V

---
This is modern jazz, without compromises, young and explosive and even more creative than you would normally expect from Switzerland. Power-Jazz of international measure...now on Brambus.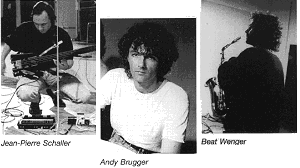 No No Diet Bang is the name under which three of the most interesting and most dynamic Swiss jazz players are creating their explosive musical ideas. Beat Wenger (sax), Jean-Pierre Schaller (bass), and Andy Brugger (drums) are the powerful solution for non-boring sounds that nearly blow all the speakers! In fact, their debut CD "Razzia" (1991) has been used for demonstrating power-sound equipment! And the band doubled 1994 with another masterpiece of creative music ful of fun and energy.."Leichenschmaus"
On their latest work,"Profan", they confirm their great artistical knowledge in very honest and "profan" live recordings of outstanding quality with some very interesting guests such as Annie Whithead, Juan Munquia, and Marc Wagnon. These artists are also part of their actual live line-up and will be touring with the band extensively in Europe during autumn of 1997. (They are also available for other territories...).