MFB

Currently available from Brambus Records:
---
Tempted
Tracks:

Midnight Party
Tempted
What's Up
Rose of Texas
River of Lies
Vogu Lisi
See What Tomorrow Brings
Your Mama Don't Dance

Hey You (For Lesslie)
Paradise Cafe'
Mustang Sally
Lonely Man (99)
Cold Outside
Rock'n'Roll Singer
See You Later Alligator

---
The former "Max Forster Band" reduced their name to significant "MFB" and presents herewith a long awaited high quality studio recording with not less than 15 songs. Ten are brand-new and self-penned songs in best rock tradition and with the most possible dynamic.
the few "cover" songs include roots-giving titles like Wilson Pickett's "Mustang Sally" or newer hits like "What's Up?" of the band 4 Non Blondes.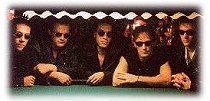 Bigger and richer in sound than ever, MFB presents the hard kind of rock as formerly brought to the world by renown bands like "Krokus", "Gotthard", originating from Switzerland as well.
MFB completed their early line-up in 1998 by adding the Max-Horns featuring Ernie Buchinger (former "Karawanken Quintett") and Päuli Hofer on piano strongly known in Switzerland for his work with "Bluesaholics". the full line-up features members who in addition to the above mentioned have play strongly with "Rush Hour", "Methusalem", "Blue 46", "Hubert Von Goisern" and more
United as they are now, they celebrate the various kinds of rock-music on this album, with, reaches from southern-rock to hard-rock, and melody-rock to blues-rock
The band played far over 400 concerts and is constantly on the road, bringing their rock to mid-Europe and hopefully soon to other parts of the world. Be ready for MFB, a new highly recommended brand for top-rock with power and dynamic, ready for you in the best possible quality and with the trademark "made in Switzerland"!