---
Tracks:

Varde Mata
Kaisa Sandesha

De Darshan Ma
Ja Jai Durge

---
Die Gruppe «Kamala» wurde 1998 gegründet und arbeitet seither an einer Musik, welche eine Synthese von indischen Melodien und Rhythmen mit Jazz anstrebt. Eigenkompositionen und von indischen Mönchen komponierte Lieder bilden dabei die Grundlage zu einer Musik, bestehend aus abwechslungsreichen Arrangements mit verschiedenen Grooves, sphärischen Klängen und jazzig-orientalischen Stimmungen. Auch Grooves über ungerade Metren werden von der elastisch und filigran agierenden Rhythmusgruppe mit natürlicher Lockerheit gemeistert. Innerhalb des kompakten Bandsounds von «Kamala» gibt es genügend Freiräume für spontane Interaktionen.
Nach der erfolgreichen ersten CD "Orientalspacejazz", die mehr die elektronischen Sounds in den Vordergrund stellte, ist die Gruppe mit dieser neuen Produktion, aufgenommen in den Studios des Schweizer Radios DRS II, wieder mehr zu den Klängen der akustischen Instrumente zurückgekehrt. Wie der Name der neuen CD " Indian Songbook" bereits antönt, wurde der Songcharakter und die melodische Kraft dieser Musik noch mehr in den Vordergrund gestellt. "Kamala" wird ab Herbst 2003 wieder breithin auf Tournee sein – Ohren auf für ein anspruchsvolles, kreatives und virtuoses Musikerlebnis!
---
"KAMALA" was founded in 1998 by very well experienced Swiss artists, lead by the famous piano player and composer Bruno Steffen, who has already released CDs for brambus with the STEFFEN-ALTHAUS QUARTET, with the RACINE-STEFFEN GROUP and the newer project titled "FELLOWSHIP BEAT".
"KAMALA" works on a special music, which combine melodies and chants of Indian monks with jazz. Self penned titles and compositions by the monks are the base to a new music, which contains very creative arrangements with grooves, spheric sounds and jazz-oriental moods. Following their first release "Orientalspacejazz" – earlier on brambus – the group presents here a much more acoustic sound, compact, but leaving enough space for spontaneous interactions.
The new album has been recorded at Swiss national radio DRS2 in Zurich and shows the group in its best way, the song character and the melodic music from India is herewith even stronger in the middle of the production and mostly acoustic instruments give a very warm and relaxing atmosphere. This is a truly creative musical experience full of virtuosity! Take your time to know it!
---
Tracks:

Shivanandana
Aditya
Ventum

Sarva Mangale
Tales

---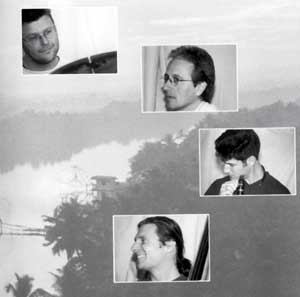 Die Oriental-Jazz-Gruppe Kamala wurde im Winter 1998 gegründet und experimentiert seither an einer Musik, welche eine Synthese von indischen Melodien und indischen Rhythmen mit Jazz und Pop anstrebt. Daraus entsteht ein Gewebe aus jazzigen, orientalischen, funkigen und auch popigen Klängen, die manchmal elegisch in weiten Sphären schweben, andererseits aber auch freien Improvisationen Raum lassen. Verschiedene Grooves - oft in ungeraden Metren - wechseln sich ab.
Kamala setzt sich aus teils wohlbekannten Brambus-Künstlern zusammen, allen voran der Pianist Bruno Steffen, mit welchem Brambus bereits 1991 ein erstes Album veröffentlichte und später noch weitere Produktionen angliederte. Für viele Kenner ist sein Album City Of Glass noch heute ein Jazzmeisterwerk. Die genaue Besetzung von KAMALA:
Adrian Mira (sax, clarinet)
Patrick Jenny (bass)
Andy Oswald (drums)
Bruno Steffen (piano, synth.)
Sämtliche Musiker haben ihre Spuren in der Musikwelt in verschiedensten Formationen bereits hinterlassen und diese Reife spührt man aus den hier eingespielten Kompositionen gut hervor
---
Welcome in the brambus jazz family for a new and exciting oriental jazz group: KAMALA. Not all is new in this extremely well doing group, many of the members have recorded for brambus before, such as Bruno Steffen, whose first album on brambus was released in 1991 and many jazzfans still title city of glass as a classic masterpiece.
KAMALA was founded in the winter 1998 and does experiments with a kind of music, that has strong influences from indian melodies and rhythmns and combines these with jazz and even pop. The result is a fine sound of electic music that includes also spheric sounds on one side, but leaves space for free improvisations on the other. A wide variety of grooves are used, often including uneven beats.
KAMALA lines up many well known and established Swiss jazz artists such as
Adrian Mira (sax, clarinet)
Patrick Jenny (bass)
Andy Oswald (drums)
Bruno Steffen (piano, synth.)
They all have played with many international formations and found themselves here for a new and exciting project with a strong relation to the traditional indian music, celebrated and sung by monks in India.